About Us

We, Geoff and I, are decidedly different in our choice of pastime pursuits...while friends play golf, bowl or sip wine... we renovate, decorate and restore old buildings.

We bought our first old house when we were twenty and as the years rolled on the passion for breathing new life into tired old buildings has continued to grow. Our current project is the old Exchange Hotel. We welcome you to share with us the journey of change at the Exchange Hotel as we renovate, decorate, recreate and define a new role for our tired old Hotel.We are endeavouring to once again re-establish it as a prominent central location where people meet, greet and gather for a great country experience.
It actually isn't all about us, it's about taking in the country, the lifestyle and the feeling one experiences wandering through the rooms of the rambling old Hotel recapturing moments of nostalgia of bygone times.
As we work our way through the old Hotel we will add photos to this page to share with you our progress, the changes being made within the building and the newly created ventures that will be housed within the Hotel complex. The Gift and Home Wares Gallery will be predominantly located throughout the ground floor rooms and central courtyard. Much restoration work is needed to be done to see our plans come to fruition so we will chip away room by room steadily applying much TLC to create a new purpose and role for an old Hotel that struggled to hold it's own as a Hotel. For us we see the future role of this wonderful heritage building as being a special destination shopping experience,a centre for tourism drawing travelers from the western region to experience the feeling we are creating within the walls of the Hotel and to stay awhile to enjoy all our township and country locality offers.
Yes, we have plans for guesthouse accommodation, great coffee and courtyard antics...all will be revealed on our website as we restore each area within the Hotel complex ...so keep checking our updates.
HISTORY: Nine years ago we looked at the old Hotel building and I put together a renovation and business plan for the complex. It wasn't meant to be our time back then and after two new owners tried to maintain it as a working Hotel.The Hotel finally closed it's doors in June 2009. In those nine years we had moved on to other projects and when someone suggested we buy it we initially laughed it off as a silly suggestion. But Geoff in his wisdom encouraged me to have another look to see how I felt when I was in the building again.I have an affinity with this building and upon entering it again I visualised the rooms painted, restored and brimming with life. Our decision to buy was based on our thinking "would we look back in a few years and regret that we didn't take this opportunity to do what we love doing...restoring old buildings, decorating and designing". Thus the adventure began, timing was all wrong with the committments we already had in our lives but as we began work on the building late November 2009 to open for December trading we knew we were meant to travel this road and enjoy restoring this beautiful old Hotel. It will take time, as renovating is our hobby but we are implementing our original plan to offer customers a very different retail experience with the downstairs areas of the Hotel complex covering the indoor and outdoor home owners decorating needs.

Watch this page we will be loading quite a number of photos in the next week

Renovation Work
Below you will see photos of how the 'pub' looked when we entered it. It had seen many years of service as a 'watering hole', meeting place and venue for larger functions over the years. It was rather dark, a little dingy and in desperate need of lightening and brightening up to serve a new role as home to a Gift and Homewares Gallery. We needed to work quickly to open our dooors, so we could open two weeks after getting the keys. Our aim was to create a fresh look to soften the interior whilst achieving a comfortable, welcoming, homely feel...hence the choice of the heritage green on the walls of the bar room below.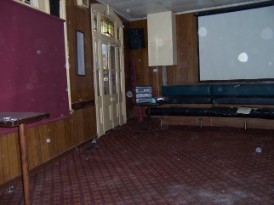 The bar room cleared ready for work to begin. Many thanks to Melanie and Anne for your 'down on your knees' day spent scrubbing the carpet. The repugnent smell has gone!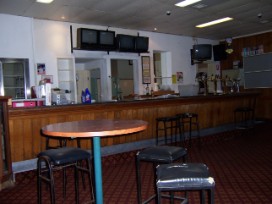 View of bar from the entrance.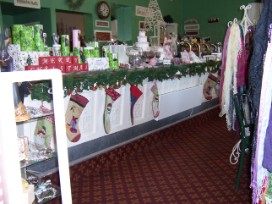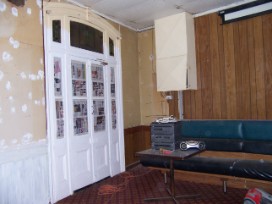 Work in progress. The timber grain laminated ply wood being removed from above the chair rail height, walls being patched, painting begun and the suspended ceiling ready to be replaced.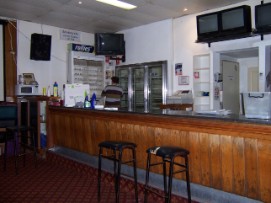 The bar before painting .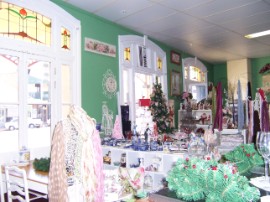 A fresh new look with light streaming in through the featured leadlight windows. The floor plan purposely planned to allow room for table settings to be 'amongst it all' whilst having tea and coffee.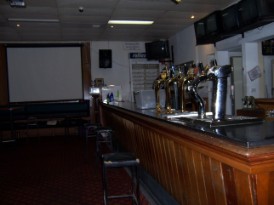 The taps were a must to stay.