My Country
Welcome to the wonderful world of the west...
the Weddin Mountains, the quaint township of Grenfell and the many attractions and colourful rich history this locality offers

Escape, do the 'time warp', relax and enjoy the freshness of the country air, starry nights, the peace, tranquility, the friendly

country hospitality and the uniquely inspiring Exchange Hotel Complex.
We proudly support the following attractions and recommend the following country Experiences:

A world of wonderfull intriguing gardens...

featuring "Wallangreen" Sculpture Garden & Gallery
"Wallengreen"is the home of Len and Janice Wallace

Nestled in a creatively planted rambling garden you will discover over one hundred intriguing sculptures designed and made by Len. There is something for everyone to enjoy amongst the rock walls, water featuers, trees, shrubs and wandering pathways. Both thought provoking and whimsical items are displayed featuring The Creation Clock and Old Woman in a Shoe automations along with many sculptured statues, musical troop, plants, birds, bugs and butterflies.Within the hectare of grounds there are water features, shady areas, a Scupture Walk,rock walls,with plantings of succulents, native and exotic grasses, shrubs and trees.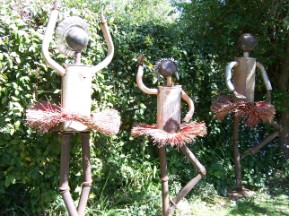 Scattered amongst the cleverly planted grounds you will find dinosaurs, strange creatures, wild metal emus and entertaining dancing girls.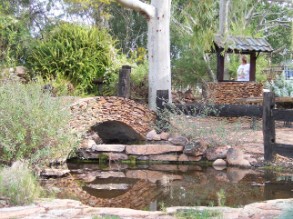 Featured here is one corner of the huge garden
Noel & Sharon Cartwright have developed over many years.Specialising in Australian Native Plants "Alumuna" abounds with many unusual species and is constantly providing a profusion of colourful blooms. With water features, a rustic cottage, shaded grassy walkways and pockets of contrasting plantings of trees,shrubs and flowers this is a truly inspiring and specialised garden worth visiting.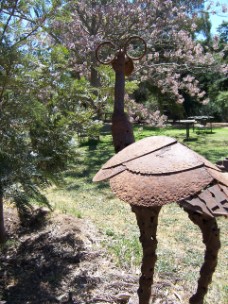 Grenfell Garden Days

Grenfell and the surrounding region has many notable gardens. The owners of these select gardens open their gardens on special days for garden clubs and garden enthusiasts. If your club or group are interested in experiencing a garden day in Grenfell please contact us on
Phone: 0263431984 Experience a diversity of garden designs, practical gardening ideas and a great day out with opportunities to enjoy art, culture and the countryside. See a variety of gardening approaches all inspired by the garden owners uniquely personal preference and garden style choices which signifies their creativity, passion, personality and love of gardening.
See also Events Page for

Open Garden Day Dates, Garden Days and Workshops
We have the lot in Grenfell!
For the ultimate Girls Day Out and Pamper Perfect Day Grenfell is the must do destination.

Starting at the Exchange Hotel with a strong brew

you are in walking distance to

we are still working on this page we have much more to add so please check back regularly

By prior arrangement groups are welcome to take advantage of this tranquil setting to have a picnic lunch in the grounds.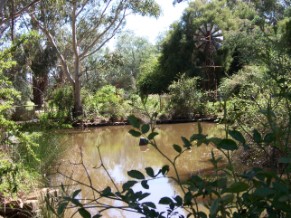 "Illoura" is the home of George & Beryl Walker who are decidedly passionate cottage gardeners. This garden brings much pleasure to the owners and passers by. There is "something always happening" to see or share in this garden filled with perennials, interesting shrubs,stone walls, garden rooms, climbing geraniums and an inventively quaint vegetable plot.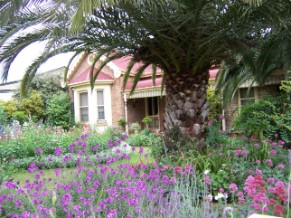 Jan Parlett's Country Experience
start the day in a special way
get that feel good feeling